ANTI-MARKING SYSTEMS: WHITE STAR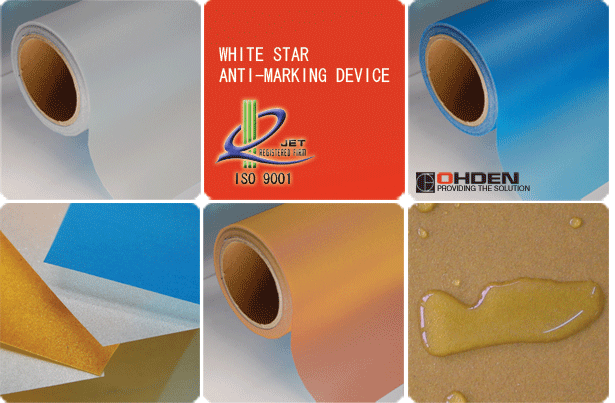 ANTI-MARKING FILM & PAPER / WHITE STAR SERIES
Our anti-marking film & paper are good solution for perfect markless transfer of wet ink to transfer cylinders of sheet-fed presses.
Uniform silicon beads based on the quality A/S polyester film and specially treated paper. Easy, accurate and quick set up. Dimensional stability and durability. Cheapest in prices compared with others.
PRODUCT RANGE
Features & Benefits:
Our anti-marking film & paper are products which features pure silicon beads bonded to a polyester backing (WS-70FSA & WS-70F/FL) or specially treated precision paper backing (WS-70P).
Our anti-marking film & paper provide an extremely effective solution to the problem of marking, which are coated with uniform, microscopic silicon glass beads. When fitted to transfer cylinders, it will replace other forms of anti-marking device. Easy, accurate and quick setting up. It performs dimensional stable and durable.
Usage Instructions:
Simply cut in transfer cylinders size, for example, 750 x 525 for SM72 or KORD, 1050 x 750 for SM102, and apply on the cylinder surface with self-adhesive tape (WS-70F/FL & WS-70P). For WS-70FSA, it is with self-adhesive back treated, and you can just cut it in size and put on the cylinder.