PRINTING CHEMICAL & PROCESS CHEMICAL BLANKET & ROLLER WASH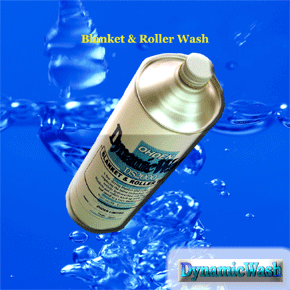 PRINTING CHEMICAL & PROCESS CHEMICAL BLANKET & ROLLER WASH:
DYNAMIC WASH SERIES
OHDEN Dynamicwash is the top selling, all mighty, water miscible blanket and roller wash. It is a unique blend of high technology cleaning and deglazing agents. When used on a daily basis Dynamicwash will deposit plasticizers on the rubber surface which, after a few seconds, will penetrate the rubber and rejuvenate blankets and rollers thereby prolonging their life.

Spec. & Packing Supplied in 10L bottle, 20L bottle & 200L drum
Physical state: Clear
Flash point: 21 ~55℃
Boiling point: >168℃
Viscosity: 1.27~25
Features & Benefits:
Powerful but gentle. Ozone friendly and efficient on all litho presses.
Clear liquid with low odour and medium evaporation.
Suitable for use with:
Both automatic and manual blanket wash device - Ink unit wash-up device
Impression cylinder wash-up device - Hand washing on press
Cleans off ink, gum, varnish, paper lint and deglazes rollers and blankets. Quick drying, deep penetrating. It can also use as a heavy duty damper wash.
Usage Instructions
BLANKETS: 
For automatic blanket cleaning: Follow the instructions of the automatic blanket washing system manufacturer.
For manual blanket wash: Apply the direct solution with a damp cloth or sponge to dilute and remove the ink layer.
Remove the residue with a clean damp cloth or sponge. Finish with water application and wipe dry.
INKING ROLLERS: 
Apply concentrate wash from a squeeze bottle to loosen the ink film.
Fix the gutter blades and apply Dynamicwash pre-mixed with 20 – 30% water from a separate squeeze bottle
to give a complete wash-up to remove ink and water soluble material and to rejuvenate the rubber surfaces
in one single application.