PRINTING CHEMICAL & PROCESS CHEMICAL FOUNTAIN SOLUTION / ADDITIVE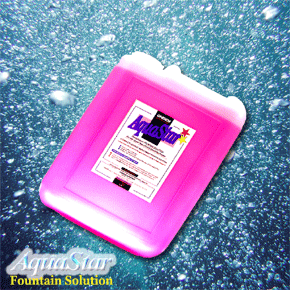 FOUNTAIN SOLUTION / AQUA STAR TYPE S
OHDEN Aqua Star S is a complete alcohol replacement fountain solution combining the most efficient wetting agents with the latest corrosion inhibitors.
It is suitable for high speed sheet-fed and web presses for long run printings with any type of dampening system. Apply 1.5~2% maximum.
Spec. & Packing Supplied in 10L bottle & 20L bottle or 200L drum
Aqua Star S original pH: 3.8±0.5 1.5% mix: 5.0 ~5.5pH
Features & Benefits
No smell – No flash point – No drowsiness, dizziness to mucous membranes – No chilling required –
No evaporation – Surface tension reducers and wetting agents to produce a stable ink/damp emulsion to:
Give quick clean ups – Improve ink transfer – Reduce ink feed and replace the use of alcohol (IPA).
Usage Instructions
The recommended dosing is 2% maximum (20ml per liter). Over dosing causes poor ink/water-emulsion stability leading to over-emulsification of ink on roller train and feed back into dampening system.
For accurate dosing control of buffered fountain solution, use of conductivity meter is recommended.

OTHER OPTIONS